What to do if you Believe you Have Been Unfairly Dismissed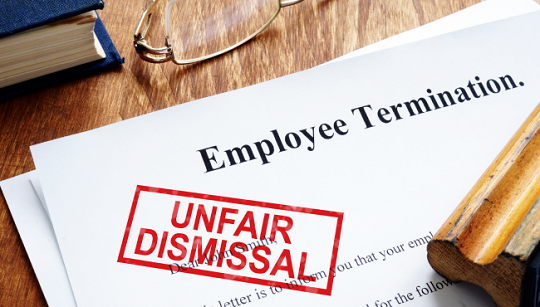 Losing your job can be a very challenging and distressing experience, and it can be even more difficult if you believe that your dismissal was unfair. Unfair dismissal is a serious issue, and employees in the UK have legal rights and protections in place to ensure that they are treated fairly in the workplace. Here at RDC, we understand the complexities of employment law and are here to help you navigate this challenging situation. In this article, we will guide you through the steps to take if you believe you have been unfairly dismissed.
Understanding Unfair Dismissal
Unfair dismissal occurs when an employee is terminated from their job in a manner that contravenes the law or breaches their employment contract. In the UK, employees are protected by the Employment Rights Act 1996, which outlines specific circumstances in which a dismissal is considered unfair. Your dismissal could be unfair if your employer does not have a good reason for dismissing you or does not follow the company's formal disciplinary or dismissal process (or the statutory minimum dismissal procedure in Northern Ireland).
There are several circumstances in which your dismissal is likely to be unfair, including if you:
Asked for flexible working.
Refused to give up your working time rights - for example, to take rest breaks.
Resigned and gave the correct notice period.
Joined a trade union.
Took part in legal industrial action that lasted 12 weeks or less.
Needed time off for jury service.
Applied for maternity, paternity and adoption leave.
Were on any maternity, paternity and adoption leave you're entitled to.
Tried to enforce your right to receive Working Tax Credits.
Exposed wrongdoing in the workplace (whistleblowing).
Were forced to retire (known as 'compulsory retirement').
Seeking Legal Advice
If you believe that your dismissal falls into one of these unfair categories, it is crucial to take action promptly. Your first step should be to consult with an experienced employment solicitor such as RDC. They can assess your case and provide you with legal advice tailored to your specific circumstances. A solicitor will help you understand the strength of your case and guide you through the process, ensuring you meet all necessary deadlines and requirements.
Review Your Employment Contract
Your employment contract is a crucial document in assessing the fairness of your dismissal. Your solicitor will review your contract to determine whether your employer adhered to its terms. This may include the notice period, reasons for dismissal, and any specific procedures that need to be followed.
Document Everything
Gathering evidence is essential in making your case for unfair dismissal. Keep a detailed record of all communication with your employer, including emails, text messages, and letters. Document the reasons for your dismissal, the circumstances surrounding it, and any other relevant information that might support your case.
Raise a Grievance
Before proceeding to an employment tribunal, you should attempt to resolve the issue internally by raising a formal grievance with your employer. Your solicitor can help you draft a well-structured grievance letter that outlines your concerns and requests a resolution.
Attend Early Conciliation
Before you can file a claim for unfair dismissal, you must go through a process called Early Conciliation. This involves contacting the Advisory, Conciliation and Arbitration Service (ACAS) to explore the possibility of settling the dispute without going to a tribunal. It is mandatory to notify ACAS of your intention to bring a claim, and they will try to facilitate a settlement between you and your employer.
Act In A Timely Manner
In majority of unfair dismissal claims the limitation period is only 3 months. Once an Early Conciliation Certificate is issued by ACAS the Claim Form must be submitted to the Employment Tribunal within 4 weeks.
File a Claim
If your case is not resolved through Early Conciliation, you can proceed to file a claim with the Employment Tribunal. Your solicitor will guide you through the process of preparing and submitting your claim, including gathering evidence and presenting your case effectively.
Attend the Tribunal
Your case will be heard by an employment tribunal, where both you and your employer will present your arguments and evidence. Your solicitor will represent you and advocate on your behalf during the tribunal proceedings.
Obtain a Judgment
Once the tribunal has heard both sides and reviewed the evidence, a judgment will be made. If your claim is successful, you may be entitled to compensation, reinstatement, or re-engagement.
Being unfairly dismissed from your job is a distressing experience, but it's crucial to remember that you have legal rights and protections in place. If you believe you have been unfairly dismissed, RDC can help. Call us today on Bingley 01274 723858, Ilkley 01943 601173 or Bradford 01274 735511.