What Is A Prenuptial Agreement & Do They Stand Under UK Law?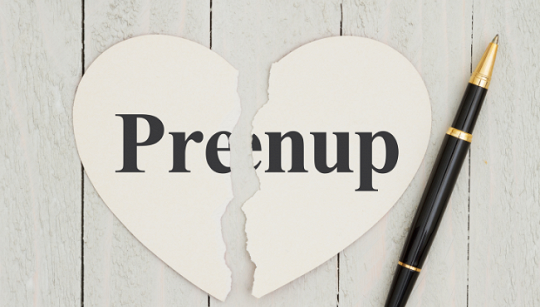 A prenuptial agreement is a legal contract entered into between a couple before they get married, which sets out how assets should be divided in the unfortunate event of the marriage breaking down. Assets can include property, possessions, savings, inheritance, debt, joint purchases and future earnings.
Although they can be thought about as something for the rich and famous, or for couples where one has significantly greater assets than the other, prenuptial agreements are a way that any couple can lessen the uncertainty regarding the outcome should the marriage end in divorce. Prenuptial agreements are becoming more popular as more couples recognise that having a prenuptial agreement in place before marriage can save in litigation fees and lengthy court cases in the future.
Prenuptial Agreements & UK law
You may be surprised to learn that, at the time of writing this article, prenuptial agreements are not enforceable in UK courts, however a judge will usually support the contents of a prenuptial agreement as long as there are no issues with the contract.
In order for a prenuptial agreement to be considered valid and binding:
it should be written by a qualified lawyer specialising in family law
the terms should be decided under negotiation and not be imposed on one of the parties
it should account for future changes in the marriage, such as providing for future children
there must be full financial disclosure by both parties regarding assets & debts
both parties should fully understand the nature and future outcomes that the prenuptial agreement sets out
both parties involved must receive independent legal advice on the document to ensure it is fair and lawful
neither parties' solicitors should give advice to not proceed
neither party should be pressured or bullied into signing the prenup
it should be signed more than a month before the wedding
signing of the prenuptial agreement must be witnessed by two individuals (who must be over 18 and not family members), one for each party.
The length of time that a prenuptial agreement is valid, or a date that it should be reviewed, can be included in its terms, however if no date is mentioned then it will be permanent until any one of the couple wishes to revoke or modify it.
If circumstances have changed and one of the couple believes the prenuptial agreement they signed is no longer valid, it can be challenged.
Courts do take prenuptial agreements very seriously, however they can invalidate them if they believe it is unreasonable or unfair to one of the parties.
If you would like to discuss having a prenuptial agreement, or any other issues in family law, then please call us for your free initial consultation on Bingley 01274 723858, Ilkley 01943 601173 or Bradford 01274 735511.