What's the difference between a Separation Agreement and a Judicial Separation?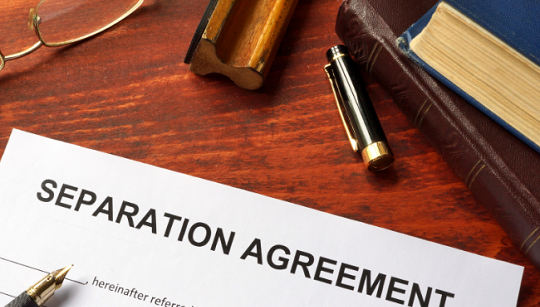 A Separation Agreement or a Judicial Separation are options when a couple have concluded that their marriage has come to an end, but they may not be able to, or they do not wish to, divorce right away.
Why would a couple not be able to divorce?
Currently, in England and Wales, a couple must have been married for at least a year before they start divorce proceedings. One of the couple must file for divorce and be able to prove that the marriage has 'irretrievably broken down' due to one of five reasons:
1. Adultery
2. Unreasonable behaviour
3. Desertion for 2 years
4. You've been separated for two years and you both agree to the divorce
5. You've been separated for five years
[Note: Following the passing of the Divorce, Dissolution and Separation Act 2020 in June 2020, this is due to change with the introduction of 'No Fault' Divorce. Please contact us to find out more].
Reasons for not wishing to divorce straight away
These may include:
wanting to take time to be clear about the terms of separation
strong beliefs that are not aligned with divorce
not wishing to relinquish pension rights
What is a Separation Agreement?
When a couple decide to separate they may need to consider:
where they and any children they may have will live
when children will see each parent
how to deal with any shared money or belongings
if or how much maintenance should be paid
If you are not able to, or do not wish to divorce, or end your civil partnership straight away you can ask a solicitor to write up these arrangements as a 'separation agreement'.
A separation agreement can be a good way of making sure you are clear about the terms of your separation, and how they work practically, before you get divorced or end your civil partnership.
A couple may want to include details about when they intend to start Divorce Proceedings, who will issue, and on what basis.
Note: a Separation Agreement does not involve any Court Proceedings and although it is a contract between two parties, it isn't legally binding. A solicitor may make a Separation Agreement legally binding if both parties wish, by turning it into a Consent Order.
What is Judicial Separation?
Judicial Separation is an alternative to a Separation Agreement that again does not end the marriage by divorce, but leaves the parties 'judicially separated'. A Decree of Judicial Separation needs to be obtained from the Family Court and can be applied for even if a couple have been married for less than a year. Once this is issued a couple would no longer be legally seen as a couple, but they would still be married.
Unlike with a Separation Agreement, the Court can rule how assets should be divided (not including pensions), and partners will no longer be beneficiaries in each other's Wills unless new Wills are made specifically naming them.
With both a Separation Agreement and a Judicial Separation, both people remain married to each other and are not free to remarry.
NOTE:
There are various caveats and potential difficulties that can arise in entering into a Separation Agreement or Judicial Separation, and we recommend that couples seek advice from our specialists before reaching any final decision for which options are most suitable in their specific case. For example, in both cases the individuals should ensure they make new Wills.
If you are looking to separate or divorce, then contact our family law team today on Bradford 01274 735511, Ilkley 01943 601173 or Bingley 01274 723858. We offer a free initial consultation to go through the individual circumstances of your case and to advise you of the options available to you.